Developed Land in The American Center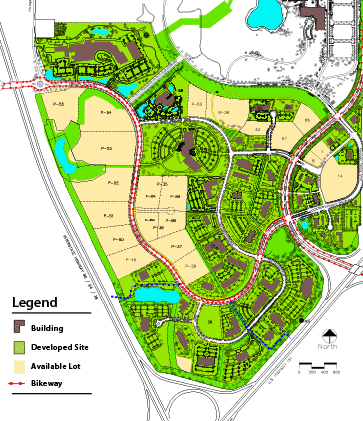 Whether you're looking for leased office space or a large lot for your business headquarters, The American Center has the space for you. Located in Madison, Wisconsin, our business park features a beautiful setting with more than three miles of walking trails to inspire your best work. Residents of The American Center appreciate municipal services and amenities as much as they enjoy the diverse community of companies that surround them. Come and explore our commercial real estate opportunities and discover your new business location.
Sales and Leasing Agent
Chuck Redjinski
NAI MLG Commercial
(608) 663-6006


Developed Land
Bright Horizon Child Care

An 11,200 square foot child care center accomodates 140 children for employees of The American Center.
Children's Dental Center

A 5,100 square foot single-story pediatric dental office catering to children of all ages. They incorporate the latest in technology and techniques to give children the best possible experience at their dental visit.
Kwik Trip

A 7,000 square foot service station and convenience store which includes a two bay car wash.
Erin's Snug Irish Pub

An 8,000 square foot, full-service pub and restaurant that can accommodate meetings and parties. Take-out service is also available.
Park & Ride

A 138-stall park and ride lot developed by the Wisconsin Department of Transportation.
American Commons

A 9,000 square foot retail outlet, which includes American Family Insurance, Josh Erickson Agency, Milio's Sandwiches, and The Buzz hair salon.
Noah's Event Venue

Noah's is an event venue for all of life's events including weddings, corporate events and special occasions. With locations across the country, Noah's is the industry leader when it comes to providing unparalleled customer service and a versatile and beautiful venue for your event.
EastPark One

A prestigious three-story, Class A office building which boasts high quality finishes, conference / training room, vending area and on-site storage. This 85,300 square foot building offers space from 1,600 SF up to 9,000 SF of contiguous space at a lease rate of $13.00 NNN.
Summit Credit Union

A 35,000 square foot banking headquarters provides drive-up and in-lobby service.
BP Gas Station and Subway

A 6,000 square foot service station and convenience store which includes Subway.
Happy Wok

A 3,800 square foot restaurant with drive-in, carry-out and delivery service.
Suds It Up Car Wash

A 4,500 square foot car wash.
Enterprise Rent-A-Car

A 4,150 square foot rental car facility.
UW Health/GHC Clinic

A three-story, 113,000 square foot, full service community health center includes ambulatory service and on-site pharmacy.
La Quinta Inn & Suites

The hotel includes 139 guest rooms and provides full-service accommodations and amenities including a restaurant, swimming pool, fitness center and meeting space.
5201 E. Terrace Drive

A three-story, 45,000 square foot office building is the home of Johnson Bank and Horizon Construction Group, Inc. The building features a two-toned brick exterior, with a colored decorative concrete entry plaza.
5133 W. Terrace Drive

A four-story, 82,400 square foot office building. Available space from 1,900 SF up to 7,800 SF.
U.S. Cellular

A 106,000 square foot, four-story regional headquarters
Terrace Professional Center

A 31,800 square foot multi-tenant office building, including First Weber.
Herzing University

A 40,500 square foot, single-story school. It is one of the nation's oldest electronics schools.
Clasen Quality Coatings Inc.

A 35,000 square foot office building for the headquarters for Clasen Quality Coatings, Inc.
Holiday Inn

A five-story, 139 guest room hotel provides full-service accommodations and amenities including a restaurant, swimming pool, fitness center and meeting space.
St. John Properties

Three single-story multi-tenant office buildings totaling 70,000 square feet are available for lease.
St. John Properties

A single-story multi-tenant office building consisting of approximately 34,000 square feet, available for lease.
Baker Tilly

A 150,000 square foot, five-story accounting and consulting firm headquarters.
Cambria Suites

State Bar Association of Wisconsin

A 39,700 square foot, two-story headquarters.
Wisconsin Bankers Association

A 25,000 square foot, two-story headquarters.
Fairway Mortgage

A 17,000 square foot corporate office for Fairway Mortgage Company.
Design Concepts

A 25,000 square foot product and design engineering group headquarters.
Operating Engineers Local 139

A 16,000 square foot, two-story, regional office for Local 139.
Alliant Energy

A 325,000 square foot international headquarters.
The 5100 Building

A 48,000 square foot multi-tenant office building.
Capitol Commons

A communal area for Park businesses which connects to the Pedestrian Trail System.
Globe University

A two-story, 31,000 square foot career college with 20 classrooms, labs, a library, office space, a student resources area and a student commons.
Future University of Wisconsin Hospital
A 41.5 acre site for a new hospital, which is currently under construction.
UW Rehabilitation Hospital

UW Health Rehabilitation Hospital is a free-standing, 50-bed acute inpatient rehabilitation facility located on the east side of Madison, Wisconsin. Our rehabilitation hospital offers specialized programs for people who have experienced stroke, brain and spinal-cord injuries, amputations, complex orthopedic injuries and other conditions requiring inpatient rehabilitative services.
Center for Oral and Maxillofacial Surgery

A two-level, 8,500 square foot clinic.
MARC

This Eastside location is one of seven for Madison Area Rehabilitation Center, which is the largest provider of community and center-based employment and day services for adults with developmental disabilities in Dane and Sauk counties.
Stevens Construction

Corporate office location that provides a wide range of construction services during the pre-design, design and construction phase of a project. Projects include: multifamily, commercial, industrial, retail, hotel-motel, elderly housing & nursing homes, water parks, parking structures, schools and churches.
Wind River

Wind River Financial partners with banks, credit unions and trade associations to design and customize processing solutions for their clients and stakeholders. Banks and credit unions trust us to uphold their own standards of customer service excellence.